Don't hesitate to contact me for any custom-made requests.
Whether it's for your wedding or just to match an outfit, I'd be happy to make the jewelry of your dreams.
You will first receive a quote with sketch and price and you will be consulted at every stage of the design of your jewel.
----------------------------------------------------------------
You have a piece of jewelry you care about, but it's broken?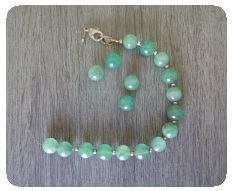 Is this a gift from your spouse, your children, a family heirloom?
Why not, if possible, transform this beautiful family jewel into one or more pieces that you will be delighted to wear again?
For this, nothing could be simpler: Send me a photo with the detail of what you would like to contact@julieandcocreations.com
I would also be happy to advise you by email, phone (0601982772) or over coffee at the workshop.
I could then make a quote based on your request.
By adding glass or ceramics, it will be transformed. And thanks to the stainless steel I use for metal parts, your jewel will be gone for many years without tarnishing. It will also be entirely anallergic.